What are the "spotlight" features?
This is where you will learn a little more about our sponsors and the blogs taking part in the celebration! Let's take a look at some fabulous bookish folks...
~~~~~~~~~~~~~~~~~~~~~~~~~~
I've always been a big reader. Growing up in Brooklyn, N.Y., I also rode my bike and went to camp and did all the regular-kid stuff, but mostly what I did was read. I actually think about my school years in terms of what I was reading at the time: Pippi Longstocking in second grade, Little House in third,A Wrinkle in Time and The Blak Stallion in fourth, Island of the Blue Dolphins and Harriet the Spy in fifth. When I hit my teens, I was a bookworm with a major crisis: my local library had hardly any YA books!
Author of several titles perfectly fit for the Children's Fiction genre, Barbara Dee offers readers young and young at heart the chance to see the world through a young girls' eyes...complete with the pitfalls along the way. Thanks to this sponsor's generosity, we have three copies of her latest title,
This Is Me From Now
, to add to the Kick-Off Contest! For more information on her comings and goings as well as a further look at her reading and writing world growing up, visit her
website
or follow along on
Twitter
!
~~~~~~~~~~~~~~~~~~~~~~~~~~~~~
I read what authors write, then I write about what I read. My focus is mostly on KidLit, children's books, but I also love reading and reviewing YA. Adult fiction reviews can be found from time to time.
------------------------------------------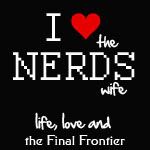 The Nerd's Wife
(Arena)
Book reviews from the wife of a Nerd who loves to read in her spare time.
------------------------------------------

Brimful Curiosities
(Janelle)
"Brimful Curiosities - Sometimes children's books, sometimes not"
I'm a mom of two young children so my blog focuses mainly on reviews of books for young kids. I also occasionally review middle grade, YA, adult fiction and every so often other products. I often include crafts in my posts and love participating in kids' book memes when I have time. Curious? Be sure to stop by and say hi!
------------------------------------------
Fiction State of Mind
(Kai)
Hello everyone I'm Kai an Avid Reader and Massage Therapist! I've changed my blog to focus on the one thing I do more than massage...reading!! I review all Fiction Genres, YA, Horror, Fantasy, Urban Fantasy Graphic Novels, and Manga.
~~~~~~~~~~~~~~~~~~~~~~~~~~
Wow! We have some great looking folks there and the best part? There's more where THAT came from! Take a moment, check out their sites and see what they're all about. Be sure to stop by again soon for our next spotlight feature....you never know, YOU might be next!
Happy reading!